Inside the fishbowl at NDC Oslo
With a record breaking 1,900 attendees, 160 speakers, 20 workshops and 170 talks spread over 9 tracks, NDC Oslo last week again asserted itself as a cornerstone of the developer conference calendar. And it doesn't stop there. Furthering the expansion that started in 2013 with the creation of NDC London, it was announced that the NDC will be coming to Australia's Gold Coast in 2016.
We were proud to be an official sponsor of NDC Oslo 2015, which ran from 15th to 19th June, with users, contributors, community champions and members of our team participating from the first workshop through to the last round of talks.
The pre-conference workshops kicked off on Monday morning with Community Champion Jimmy Bogard giving us his NServiceBus Crash Course, followed by our CEO Udi Dahan on Tuesday with Designing loosely-coupled systems. If you couldn't make it this time, Jimmy will deliver his workshop again during NSBCon 2015.
Before the conference opened its doors on Wednesday morning, our team was busy putting the finishing touches on our stand in the main exhibition hall. At the opening bell, we were ready to welcome our visitors for a refreshment, a chat, a demo or a discussion with Udi in our "fishbowl".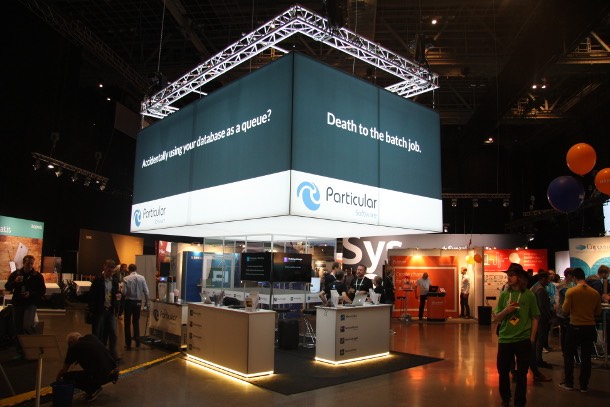 The conference opened with keynote speaker Bruce Schneier reminding us of both the benefits and dangers of ubiquitous global surveillance and describing the burden on our generation to manage the gathering, retention, and use of data, drawing parallels between the "pollution" of data in the internet age with that of chemicals in the industrial age. Bruce delivered the gravity of the topic in an entertaining style which whet our appetites for the talks to come.
Keynote: Bruce Schneier
from
NDC Conferences
on
Vimeo
.
Next up, Community Champion Dennis van der Stelt gave us a neat explanation of the considerations, techniques and implications of breaking down a monolithic application into smaller distributed components in his talk Duplicating data or replicating data in Micro Services, and demonstrated why the Particular Service Platform may often be the right tool for the job.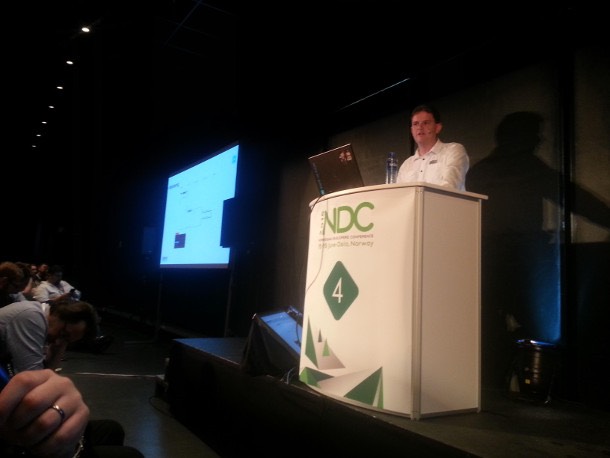 Meanwhile, back at the Particular Software stand, we were delighted to gain insight to a wide variety of real business problems, kindly shared by attendees, and by the conversations evolving from them, during many of which the Particular Service Platform emerged as offering value in a potential solution. Throughout the conference, our visitors enjoyed seeing the platform in action during tailored demos and snapped up the opportunity to take Udi on a deep dive into their own scenarios in our fishbowl.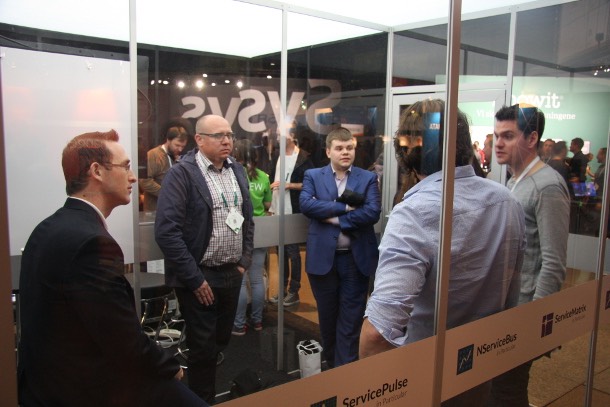 After lunch, Udi gave us a fresh perspective on CQRS by first examining why CQRS is often chosen over alternatives. Udi demonstrated how the hype surrounding CQRS has driven a rush to adoption which draws attention away from more fundamental concerns, such as the discovery of sub-domains and bounded contexts. We were shown why software layering can obscure architecture and derail solutions, and why we should rename the "Anti-corruption layer" to "Anti-corruption component".
CQRS – but different - Udi Dahan
from
NDC Conferences
on
Vimeo
.
On Thursday, I personally led the audience on an open source adventure from the perspectives of the community, Microsoft and myself, from the humble beginnings of isolated groups of hackers in the 60s to the ubiquity of, and our dependence on, open source software in the present day.
Getting the first PR into .NET and other tales from an OSS contributor - Adam Ralph
from
NDC Conferences
on
Vimeo
.
A personal highlight of the conference was when, during my talk, I submitted a pull request to the omnisharp-roslyn project to show just how easy it is to get involved in open source software, and the pull request was merged before the talk had even ended.
Later that evening, a hilarious keynote by James Mickens set the perfect tone for the NDC party.
The sadness of reaching the last day of the conference on Friday was more than offset by the satisfaction of a great week of learning. Udi took the stage once more in the last round of talks and offered us another fresh perspective, this time on business logic.
Business Logic, a different perspective - Udi Dahan
from
NDC Conferences
on
Vimeo
.
For those keen to continue their learning, Udi stayed on in Oslo this week to run his 5-day course in Advanced Distributed Systems Design. If you missed out this time, the course will be taking place again later this year in Austin and Sydney.
Everyone in the Particular Software team, myself included, would like to thank NDC for a superbly organized week of workshops and talks and for providing an ideal venue for us to interact with and learn from the community. We hope everyone enjoyed NDC Oslo 2015 as much as we did and we're already looking forward to NDC London in January 2016.
---
About the author: Adam Ralph is a developer at Particular Software and Microsoft .NET MVP with a passion for distributed systems, DDD, CQRS and event sourcing. He spends most waking hours either writing open source software or snowboarding.