Career development
Career development at Particular Software is driven by the individual staff member. What direction do you want your career to take? You decide, and your colleagues will support you. In addition to squads and task force participation, here are some other ways the company supports career development.
Feedback and mentoring
1-on-1's: The CEO has 1 on 1 sessions with every staff member every six weeks. This is an excellent opportunity to receive coaching, guidance, and suggestions for elevating your performance and broadening your impact on the company.
Peer feedback: Giving and receiving feedback from peers is an excellent way to refine your goals, identify your strengths, and discover opportunities for improvement. No more performance evaluations. We learn how we can improve every day, from the people who observe our behavior on a daily basis.
Peer mentoring: We all have times when we could use some guidance to navigate the company. Because of the way we're structured, it's not obvious where to turn to discuss problems, frustrations, or just to vent. Everyone is encouraged to find at least one individual with whom to form a consistent, personal relationship.
Continuing education
As skills and knowledge gaps are identified, each strategic area determines how to fill them. This creates opportunities for staff to learn and grow in a variety of ways, in addition to the growth they continuously experience through our cross-functional working practices. (This policy is under development. Maybe you'll be a part of shaping it!)"
The way we work advances your career
Advanced problem-solving skills: By working on squads, you'll learn how to deal with ambiguous ideas and objectives through the identification of next steps, time-boxed discussions, effective decision-making, scoping, and prioritization. These activities help ensure the correct problem is being solved and appropriate levels of effort are allocated to different objectives. These skills are just as useful in an engineering capacity, when tackling the technical challenges of a large project, as they are in a business capacity when delivering important company initiatives. In short, these advanced problem solving skills will be valuable in any company.
People skills: To truly advance a career, people skills also need development. Here at Particular Software, we believe that while traditional managers are most comfortable using command-and-control techniques with their direct reports, they often struggle when they have to collaborate with other managers and groups on cross-functional objectives - sometimes resulting in ugly forms of office politics. At Particular Software, almost all work is done collaboratively, in squads and task forces, where nobody has any authority to lean on. Through the application of our values, facilitation techniques, decision-making practices, and feedback processes, people learn how to truly collaborate rather than just divide up the labor. We learn how to navigate friction and healthy conflict, and learn what it feels like to be in a truly inclusive environment. In our experience these approaches are more effective than the traditional command and control style, even when people report to you directly.
All in all, whether you're looking to become a team lead for the first time, or whether you're on track to be managing other managers, the skills you'll develop at Particular Software will serve you well, wherever your career takes you.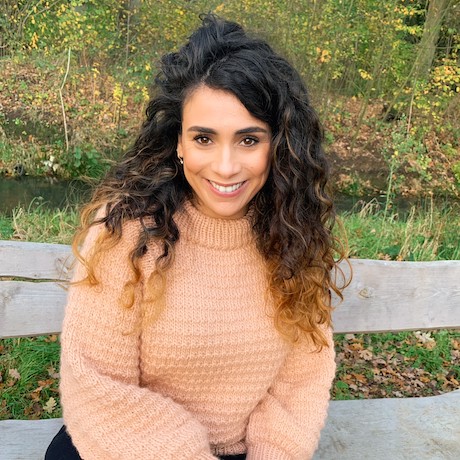 The breadth of what we do at Particular Software is what attracts me most. In my opinion, comfort zones are where you stop learning. I get to work on such a wide range of tasks in the company, that the growth we experience here is beyond technology alone. To top it off, working with people from all over the world is an extremely enriching experience. It's not that we meet now and then, it's that we actually co-work on a daily basis, cross-country, cross-timezone.

Laila - Belgium - Software engineer